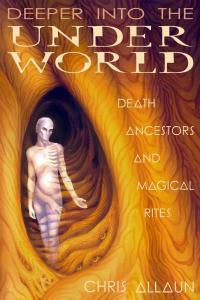 Deeper into the Underworld
Deeper into the Underworld we go

The Underworld is home to our beloved ancestors, those who gave us our flesh and blood and our breath. Their blood flows through our veins and contains great magick and power. They have the ability to help us heal old karmic wounds of the past and aide us in our spiritual development. They can teach us many things about the world of spirit. All we have to do is honor them. All we have to do is call to them.

The cycles of Life are sacred to our pagan and magical cosmology, but what of Death? As we honor life, so, too, must we honor the sacredness of death and dying. As we go further in our Underworld studies, we will learn about the Angel of Death and energetic process of dying. Death is not the end. It is a magical transition into the world of spirit where we are rejoined with our beloved ancestors. The Ancestors are our link to our past. We will learn to honor them and create a sacred shrine so that we may commune with them in a magical and healing way. By honoring the ancestors, we will strengthen our bonds with the spirits and learn to heal our family karma that began long ago and affects us even today.

By learning to work with the ancestors, we will learn to work with the spirits of the dead for magick and healing. We will learn how ancient cultures summoned the beloved dead to heal grief and say final goodbyes. We will also learn magical techniques to summon the shades of the dead and the Hidden Company; those powerful spirits that can teach us ancient wisdom of long ago that can help us tread our spiritual path to find balance and healing.
---
We Also Recommend