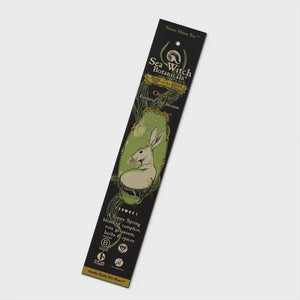 Sea Witch Botanicals: Ostara Incense
Ostara incense celebrates the fresh and fertile Earth with a chorus of uplifting spices and crisp garden herbs.
This complex blend is at once as calming as the soft warmth of sunlight and as enlivening as the crisp morning air. Sweet benzoin and earthy cedar join spicy cinnamon, frankincense, and patchouli, refreshing camphor, lemon, rose geranium, and white thyme for an aroma that's nostalgic as freshly mowed grass, barn kittens, and wobbly baby goats.
Features: Fresh, verdant aroma profile with zero synthetic fragrances. Approximately 20 incense sticks (30 grams) packaged in a recyclable envelope.